JOIN US!
Please join us in a webinar, led by Dr. Laurie Peachy from Nipissing University discussing Shaping clinical imagination and the use of maternal child simulation.
Date: Friday May 5th, 2023
Time: 12:00pm-1:00pm EST
Please Register HERE
Check here for upcoming events!
THE ART of
NURSING RESEARCH
in ART
The Nursing Research Interest Group (NRIG) is committed to advancing nursing research in practice, education, and policy. To promote nurses' and the general public's understanding of nursing research and its value to health care, we are curating an online gallery of creative and artistic expressions of nurse researchers' and students' experiences in and perspectives of nursing research as part of nursing praxis. We seek submissions that address the overall aim above and/or any of the following guiding questions: 
1. What does nursing research mean to you? 
2. What distinguishes nursing research in the health care field? 
3. What led you to nursing research? 
4. How has nursing research become a part of your praxis? 
5. From your perspective as a nurse researcher or student who has been involved in nursing research, what does nursing research (in general or your own specifically) contribute to health care? 
6. What advice do you have to nurses entering nursing research? 
We welcome submissions across any creative or artistic genre, including but not limited to: 
Art (painting, drawing, collage, crochet, photography, etc.)

 

Written/spoken word (e.g. poetry, found poetry, word clouds, etc.)

 

Multimedia stories (e.g. short film, video, short podcast, etc.)

 
Complete the form on the following page and submit the following: 
Creative/Artistic piece as an image, document, and/or multimedia file

 

A short description of the work and, if needed, what your thought process was/what you want to convey with the piece. This could be written and/or in audio/video format.

 
Submissions will be reviewed and curated for a series of social media posts and may also be posted on the NRIG website. By submitting an artistic piece, you will also be asked to consent for posting publicly. In the Google Form, you will also have the opportunity to indicate if you would like your submission to be anonymized.
Submission Deadline: March 31, 2023. 
Nursing Research Art Submission Form
Any questions can be directed to Elizabeth Straus, NRIG Secretary (nrig.secretary@gmail.com). 
On Wednesday March 1st, Policy and Political Action Officer of NRIG, Simon Donato-Woodger and Communications Officer (Website) of NRIG and Policy and Political Action Officer of Waterloo Chapter, Linda Sheiban Taucar took part in a panel discussion during RNAO's Queens Park Dinner. They discussed their experience as Policy and Political Action Officers and advocating on nursing-related matters with Members of Provincial Parliament.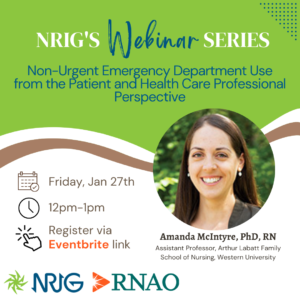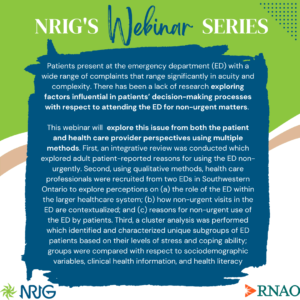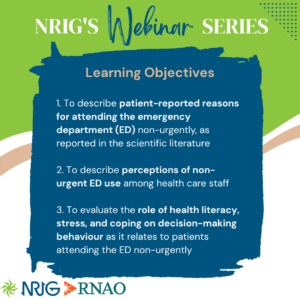 On Friday January 27th, Dr. Amanda McIntyre, Assistant Professor, Arthur Labatt Family School of Nursing, Western University discussed Non-urgent emergency department use from the patient and health care provider perspective.
Thank you to all who attended!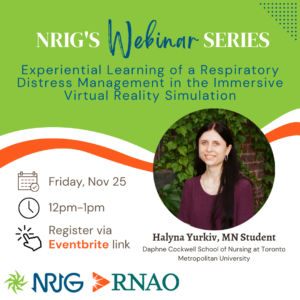 On Friday November 25 2022 from 12:00-1:00PM Halyna Yurkiv, MN Student from the Daphne Cockwell School of Nursing at Toronto Metropolitan University discussed experiential learning of a respiratory distress management in the immersive virtual reality simulation. Thank you to all who attended!
On Friday Oct 28
Dr. Kateryna Metersky, PhD, RN from Toronto Metropolitan University led a lunch and learn webinar! Thank you to all who attended!
NRIG Annual General Meeting 2022 - Wednesday, August 21, 2022
Recordings of the AGM 2022 can be found here
NRIG Annual General Meeting 2021 - Tuesday, June 29, 2021
NRIG has a new YouTube Channel. Following our YouTube page for all the latest webinars and content"

Please join us in a Virtual Celebration - National Indigenous Peoples Day
You can follow along with our virtual celebration on the following social media accounts Instagram: rye_ncucnsa, cnsa_centennial, gbc_cnsa and Twitter: @RyersonNursing.
NRIG on Twitter (@RnaoNrig) Facebook (RNAO Nursing Research Interest Group) and Instagram (rnao.nrig).
National Indigenous Peoples Day Poster:  Click Here
Nursing Research Interest Group
Annual General Meeting - Tuesday, June 16, 2020
Video Recording of the Event:  Click Here
2019 Nursing Research Interest Group (NRIG) Annual General Meeting
Held on Monday, June 3, 2019
Special guest lecture information:
Dr. Quinn Grundy is an assistant professor with the Lawrence S. Bloomberg Faculty of Nursing at the University of Toronto and honorary senior lecturer with the School of Pharmacy and Charles Perkins Center at the University of Sydney. Dr. Grundy's research explores the commercial determinants of health and their impact on the delivery of health services, health evidence, and consumer health information. She is a member of the international Evidence, Policy, and Influence Collaborative at The University of Sydney. Dr Grundy is the author of Infiltrating Healthcare: How Marketing Works Underground to Influence Nurses (Johns Hopkins University Press, 2018), which details the first in-depth study of the ways that registered nurses interact with pharmaceutical and medical device company representatives. She has further authored and co-authored numerous publications in leading medical, bioethics, and health policy journals. Her latest book will be available for purchase at the NRIG AGM and is also available for purchase online at:https://www.amazon.ca/Infiltrating-Healthcare-Marketing-Underground-Influence/dp/1421426757
The title of Dr. Grundy's presentation is: Research integrity and early career nurse researchers: Navigating authorship, conflicts of interest and industry funding. In her presentation, Dr. Grundy will discuss three common ethical issues with implications for research integrity: authorship criteria, conflicts of interest and industry funding, and strategies to help navigate potential pitfalls.
NRIG 2019 Webinar
Preparing for a Career in Academia: What to Consider, When to Apply and What to Expect
Credentials: Melissa Kimber, PhD
Assistant Professor in the Department of Psychiatry and Behavioural Neurosciences at McMaster University and Core Member of the Offord Centre for Child Studies
March 26 from 12-1pm via OTN
For a Live Webcast/archive of this presentation please click here http://webcast.otn.ca Click on live events, then, public events.
Remember to test your browser before the event.  EVENT ID:  92323404
Participants are asked to contact their Telemedicine Coordinator for the availability of their video conferencingdevice/room and to make the necessary arrangements including registering for the video conference here: https://schedule.otn.ca/tsm/portal/nonclinical/details.do?request.requestId=92323404
Audio (only) line for webinar:  1-905-415-5796
NRIG Annual General Meeting and networking event on: 
Thursday, November 15, 2018
Time: 5:30 to 9:00 pm
Location: McMaster University Medical Centre
Special Guest Lecture by Bernice Downey, RN, PhD, Medical Anthropologist, Indigenous Health Lead, Faculty of Health Science, McMaster University. The title of Dr. Downey's presentation is 'As the Crow Flies': Making Space for Culturally Relevant Research Collaboration with Indigenous People. The evening will include a tapas dinner and business of the 2018 Nursing Research Interest Group Annual General Meeting.
2017 NRIG Annual General Meeting
NRIG Annual General Meeting and networking event on: 
Tuesday, October 17, 2017
Time: 5:30 to 9:00 pm
Location: The Old Mill Toronto
This is sure to be a dynamic and informative evening which includes a buffet dinner, a presentation by Dr. Bonnie Stevens, networking/tabletop discussions, acknowledgement of the 2017 NRIG Scholarship and Grant Recipients and business of the annual general meeting. Please see the attached poster for more details.