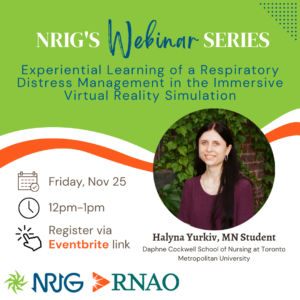 Please Join Us!
On Friday November 25 2022 from 12:00-1:00PM Halyna Yurkiv, MN Student from the Daphne Cockwell School of Nursing at Toronto Metropolitan University will be discussing experiential learning of a respiratory distress management in the immersive virtual reality simulation.
Click here to register!
Check here for upcoming events!
On Friday Oct 28
Dr. Kateryna Metersky, PhD, RN from Toronto Metropolitan University led a lunch and learn webinar!
NRIG Annual General Meeting 2022 - Wednesday, August 21, 2022
Recordings of the AGM 2022 can be found here
NRIG Annual General Meeting 2021 - Tuesday, June 29, 2021
NRIG has a new YouTube Channel. Following our YouTube page for all the latest webinars and content"

Please join us in a Virtual Celebration - National Indigenous Peoples Day
You can follow along with our virtual celebration on the following social media accounts Instagram: rye_ncucnsa, cnsa_centennial, gbc_cnsa and Twitter: @RyersonNursing.
NRIG on Twitter (@RnaoNrig) Facebook (RNAO Nursing Research Interest Group) and Instagram (rnao.nrig).
National Indigenous Peoples Day Poster:  Click Here
Nursing Research Interest Group
Annual General Meeting - Tuesday, June 16, 2020
Video Recording of the Event:  Click Here
2019 Nursing Research Interest Group (NRIG) Annual General Meeting
Held on Monday, June 3, 2019
Special guest lecture information:
Dr. Quinn Grundy is an assistant professor with the Lawrence S. Bloomberg Faculty of Nursing at the University of Toronto and honorary senior lecturer with the School of Pharmacy and Charles Perkins Center at the University of Sydney. Dr. Grundy's research explores the commercial determinants of health and their impact on the delivery of health services, health evidence, and consumer health information. She is a member of the international Evidence, Policy, and Influence Collaborative at The University of Sydney. Dr Grundy is the author of Infiltrating Healthcare: How Marketing Works Underground to Influence Nurses (Johns Hopkins University Press, 2018), which details the first in-depth study of the ways that registered nurses interact with pharmaceutical and medical device company representatives. She has further authored and co-authored numerous publications in leading medical, bioethics, and health policy journals. Her latest book will be available for purchase at the NRIG AGM and is also available for purchase online at:https://www.amazon.ca/Infiltrating-Healthcare-Marketing-Underground-Influence/dp/1421426757
The title of Dr. Grundy's presentation is: Research integrity and early career nurse researchers: Navigating authorship, conflicts of interest and industry funding. In her presentation, Dr. Grundy will discuss three common ethical issues with implications for research integrity: authorship criteria, conflicts of interest and industry funding, and strategies to help navigate potential pitfalls.
NRIG 2019 Webinar
Preparing for a Career in Academia: What to Consider, When to Apply and What to Expect
Credentials: Melissa Kimber, PhD
Assistant Professor in the Department of Psychiatry and Behavioural Neurosciences at McMaster University and Core Member of the Offord Centre for Child Studies
March 26 from 12-1pm via OTN
For a Live Webcast/archive of this presentation please click here http://webcast.otn.ca Click on live events, then, public events.
Remember to test your browser before the event.  EVENT ID:  92323404
Participants are asked to contact their Telemedicine Coordinator for the availability of their video conferencingdevice/room and to make the necessary arrangements including registering for the video conference here: https://schedule.otn.ca/tsm/portal/nonclinical/details.do?request.requestId=92323404
Audio (only) line for webinar:  1-905-415-5796
NRIG Annual General Meeting and networking event on: 
Thursday, November 15, 2018
Time: 5:30 to 9:00 pm
Location: McMaster University Medical Centre
Special Guest Lecture by Bernice Downey, RN, PhD, Medical Anthropologist, Indigenous Health Lead, Faculty of Health Science, McMaster University. The title of Dr. Downey's presentation is 'As the Crow Flies': Making Space for Culturally Relevant Research Collaboration with Indigenous People. The evening will include a tapas dinner and business of the 2018 Nursing Research Interest Group Annual General Meeting.
2017 NRIG Annual General Meeting
NRIG Annual General Meeting and networking event on: 
Tuesday, October 17, 2017
Time: 5:30 to 9:00 pm
Location: The Old Mill Toronto
This is sure to be a dynamic and informative evening which includes a buffet dinner, a presentation by Dr. Bonnie Stevens, networking/tabletop discussions, acknowledgement of the 2017 NRIG Scholarship and Grant Recipients and business of the annual general meeting. Please see the attached poster for more details.